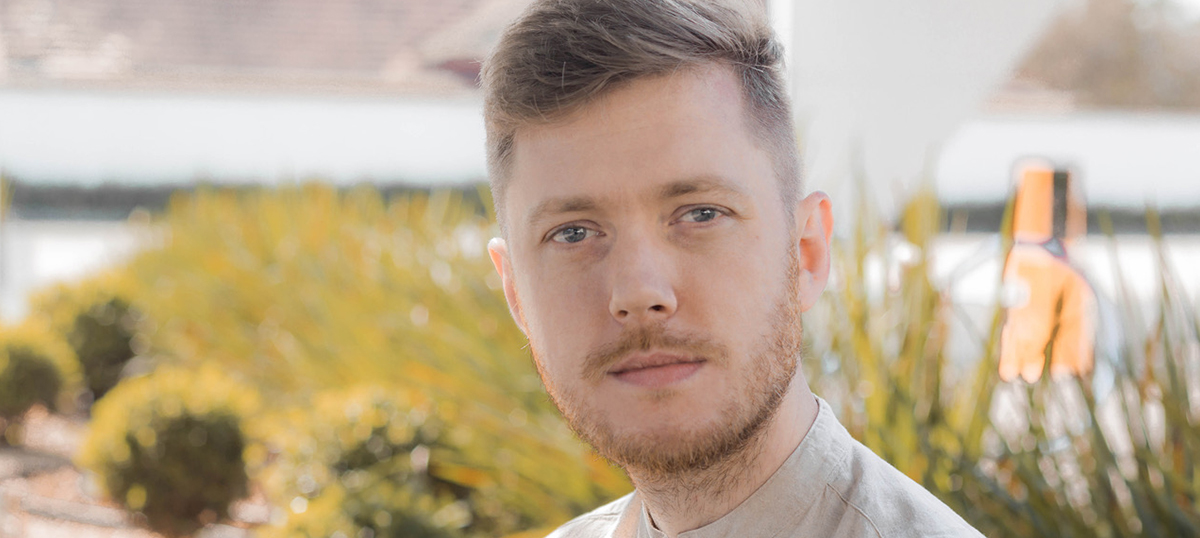 By Marcela Liz
Thanks to Google Ads – the service from Earth's biggest search engine which congregates companies with their clients – that the Sincronia Filmes team got to know and found the work of product designer Jackson Goestemeier, aka Jake Meier, especially after he established partnerships that differ themselves for the informality, high quality attendance service and commitment with his clients. "Jake is always ready to give you his best", states Sincronia owner, director Emanuel Mendes. "We needed a design studio in order to create the layout and the definitive art for our home video releases, and it was such a blessing that he was top on the list. His work gathers everything we prioritize: besides the quality and the creativity in the final material, highlighting the minimalism and simplicity, he also worries about attending you in the best, most efficient way possible, always giving you a feedback, which is very rare", concludes Emanuel.
Born in Jaraguá do Sul, Jake Meier has been living in Blumenau, in the Santa Catarina state, since 2008. Graduated in Product Design from Fundação Universidade Regional de Blumenau, he has worked for well-known companies and industries in the state, emphasizing the areas of marketing and design. A creative, disquiet and dreamer soul, he has always tried to execute his work with excellency and innovation, narrowing the relationship with his clients through viable strategies and solutions which emphasize the product/service in a smart and unusual way. Today at the helm of Estúdio Nômada, he's been developing communication materials, packages, and conceptualizing brands with a singular and honest purpose, highlighting the strong points and delivering an unusual result, distancing himself from the competitors in terms of quality and efficiency. 
For Sincronia Filmes, Meier debuted creating the definitive layout for the art cover of the DVD and Blu-ray editions that the production company – and now also a distributor of its own content – will release from now on. For that, both Emanuel and Jake exchanged several messages and did multiple long-distance Skype calls until reaching a model that was "beautiful, simple and clean, and which also had the company's soul within the product itself, in our case passing to the consumer all the necessary information in a non-polluted, intelligent and intuitive manner", as stated by Emanuel. In this interview, granted by email, Meier tells about his creative process, the influences for Estúdio Nômada, the work with Sincronia, and, of course, about design.
Let's start by breaking the protocol a bit, because this question is actually much more of a curiosity from this journalist than anything else: does design have something to do with concept? Meaning: you take a product and/or service, you understand what it talks about and/or sells, and only then you create a design for that concept?
Yes, absolutely. A design project needs to have a concept behind, otherwise it is just a random accomplishment. Design needs to have a basis on cultural, economical, social and behavioral matters of the beneficiaries of the product and/or service which is being developed. These questions need to be analyzed, connected, so one can create the project.
Speaking of which, where does the name Nômada come from? In the dictionary one can see it's the same as nomad, that is, a person who does not have a fixed habitat. Why this name and what relation does it have with the concept that you wanted to give to the studio and your work?
The nomad people are always moving in order to survive, be it in search of food or pasture for the animals. At the studio we are always moving in order to survive as well, our survival as creative people and who want to have our work seen, which depends on the constant search for new ideas, materials, collaborations and ways of producing. That's why the name Nômada.
How's the work routine like at Estúdio Nômada? In other words, how do you take something where there's little information, or sometimes no information at all, and create something from it?
Our routine is fairly dynamic, we divide our work in trying to answer our clients's needs, in attending meetings, enhance our materials and making the projects come to life – everything done in the most healthy way possible. Our place is not fixed, either, we spread ourselves in co-workings around town (in Blumenau, in the Santa Catarina state, south of Brazil), at home, or even at the clients's places. Today the studio is formed by a series of partners: they are the friends of Nômada who help out the studio in developing specific projects whenever we need it. They are illustrators, people with a high knowledge in social networks, branding, and so on. They join the studio according to the needs of a project. On the other hand, they call out the studio to develop projects, whenever necessary – so we're constantly exchanging. As to projects where there's little or no information, we try to gather as much data as possible in a secondary way, meaning, we search online, we search from essays, articles, government data, institutes, NGOs, other references, or any other source which is reliable and relevant. We then analyze everything and connect the information so the development of the project is the most assertive ever.
How do you think a product and/or service design can help in the enhancement, diffuseness and acceptance of them?
Design is something which uses data and information for the development of projects overall, that's real design. So when a product or service is developed with a concern for real design and the experience of the beneficiaries (clients; distributors; store owners, and everybody who somehow have contact and benefit from the product/service), it makes people fall in love for it. The same for product enhancement: if you already have something but you redesign it based on new and relevant information about your public, certainly this public will create a better relationship with the product/service.   
Do you think design can be intuitive, in the sense that it helps out whomever uses it and/or buys a certain product/service?
Absolutely, this is one of the keys to design: it needs to do the consumer easily communicate with the product/service, with no interference. If interferences occur, this might make the consumer think twice before buying it again, or simply go look for another brand with a more assertive design.
Throughout time we have had a whole myriad of designers and professionals who have innovated in this segment – from the Bauhaus Art School, in Germany, passing by the automotive aesthetics, the architecture, engineering, to fashion and others. Even Brazil is world-known for presenting projects and professionals who are successful in the business. How, in your opinion, can design innovate?
I believe design has a lot to innovate and create impact thinking about solutions related to poverty, pollution, wars, better access to clean water and better health conditions. Thinking about society, about people in a general way, and how we can create impact by giving them solutions. We have a very powerful tool for transformation in our hands. Another crucial point where design can deliver innovation is when it comes to circular design, where a product does not go to waste after its useful life, but does return to some stage in its circle of manufacturing where it can be 100% fixed and reused anyhow, avoiding more material to be removed from the planet or that the product ends up eventually polluting Earth.  
Speaking of which, what are some of your references and/or models?
Certainly Pentagram is a big reference, making wonderful design for so long is something truly remarkable. I really like the work of Johann Bödecker and Jamie Hall (Pentatonic founders), and the work of The Ellen MacArthur Foundation, focused on circular design. 
Do you think design can mould itself to time, to the trends in time, or it does not necessarily bend to that? I'm saying this because, when we talk about fashion design, for instance, we think this way. Or this theory does not apply to other areas of design?
For sure all areas of design take advantage of trends in time so they can develop – it will depend on the company whose product or service is being developed for. If the company focus itself on reaching consumers who surrender to fads, it's very natural the designer appropriate of these fads. It's all about public and client, after all.  
How did you meet the folks at Sincronia?

Emanuel sent me a message on Whatsapp. He found us on Google, liked the website minimalism and decided to talk to us. It was a good surprise.
The production company is known for, among other things, a concern with design and the presentation of its films/products in a different way, aesthetically beautiful and conversing exactly with the proposal, the intentions of the work – be it an audiovisual or a graphic piece, like a movie poster or folder. How does one align a line of thought concerning work between two companies that seem to think in a similar way? Makes the work easy? And in what way does it enhance it and/or make it bigger?
It sure is a great facilitator in the work. We at the studio like minimalism a lot, as does Emanuel, so there's no mistake: there is indeed this line of thought which is aligned and therefore there are no doubts concerning how to go on with the layouts of the materials, for example. We are constantly searching an aesthetics that pleases us and which is connected to the vision Emanuel has about Sincronia's materials.   
The Social Technology is Sincronia's first feature film and was distributed to movie theaters independently and now is about to reach the home video market. I know there's a very big concern from them in creating a special concept, a product that stands out in the market. What were the references you based on in order to reach this final product?
Me and Emanuel love minimalism, like I said, and all the neatness of the graphic materials – so this was our main focus during the development of the artwork. But to be more specific we based a lot on the design created for The Criterion Collection, which was all developed by Pentagram, by the way, a great reference to any designer. We tried to design the product as clean as possible, with a good reading, no distractions and the hierarchy of information thought of in a way as to not let the material be boring. 
What are the differences – if they exist at all – between creating a design for an audiovisual product like a film and another one for, let's say, the packing of a food, for example?
There is no difference whatsoever, every development embarks a series of analysis to get to a final graphic result, one that converses with whom is going to consume that product. The most perceptible difference is the technical one, each area for instance has a legislation of their own. DVDs need to have a rating seal (for censorship), which are mandatory, and the food packages need to have the nutritional table, but aside from this technical side the line of thought is the same: understanding the client and transfering this understanding to a graphic piece or product.
To bring to a completion: much is said about design helping out enhance people's lives, making it more practical. In your opinion, how do you think this could happen?
As to the practicality of daily life, the market's constant search for new things makes companies be always looking for new ways of attracting more clients, and then design comes to focus by creating products with a more attractive aesthetics, but also with better functionality. This functionality makes our lives easier and more practical and are wrapped around the tiniest solutions around us which we sometimes do not pay attention on: a can seal, for instance, because up to 1963 people would have to open a can by using a can opener. Unimaginable! It's also important to notice how design can make people's lives better in a general way: many are the examples, but one that I personally like is a project called The Mine Kafon, a deactivator of earthly mines created by the Afghan designer Massoud Hassani. It's an intelligent device, very cheap and which saves lives – and better still: it is driven by the wind, meaning, it does not pollute while working. These are the kind of projects that should be on the radar in the world of design. 
Marcela Liz is a Journalist and Entrepreneur. She often collaborates with this website.