By Marcela Liz
Graduated in Marketing and Advertising from Paulista University, Janaina Zambotti has walked a long way in her area until becoming the producer and executive producer responsible for some of the main operations of Sincronia Filmes – the production company which she has embraced together with its founder – the writer, director Emanuel Mendes. She has worked in the marketing field, at group buying companies, and mainly as organizer and coordinator of events from all kinds of sources. But Janaina is first and above all a person of the arts. "I love photography, music and movies", she says, setting in order her blonde hair while smiling shyly almost making her big green eyes that enlighten her face disappear. Those were the three passions that invariably took her to work at Sincronia Filmes. Invited by photographer Patricia Innocenti, Janaina participated in the book Brasil – Volume 1, production assisting and helping out with desktop publishing. Together, the two traveled the country from north to south and the final result were some of the most beautiful, unexpected and unknown landscapes of a Brazil full of nuance and diversity. But she also maintains an Instagram page – by the name of Jana Zamb –, which she uses to post photos she captures along the way or even from the jobs she does for Sincronia. In the company, she turned into the person who goes after the money for the projects, besides being "a sort of CEO", in her own words. It was her perseverance and strengh what made possible to make happen the company's first feature film: The Social Technology, a documentary to be partially shot in South Africa, and which has received support from private investors in the USA, a movie that will talk about women empowerment in today's world, and how new medias are helping out in clarifying and fighting diseases such as Aids and other STDs. In this interview, she talks about her trajectory, how is her work routine and the challenges of running an audiovisual company in a country that is almost unbearable.       
It must be quite a feeling the fact that you started out in a career in one specific area, changed it and all of a sudden, in another segment, the moviemaking business, which is something quite difficult in Brazil, see a project in which so much effort was put on be rewarded like that. Had you already seen yourself as a movie producer?
(Laughs) It's funny, I try not to think that way, even though I never had any pretension whatsoever, let alone imagine myself, producing movies. I try to do my work the best way possible no matter what – I also don't know how to do things in a disorganized way, without details. When I was organizing events, I'd spent hours checking the bits, going over the spread sheets on Excel, budgeting the different prices and, when I was there, in the event per se, I was the responsible for maintaining order, the people, which in a way or another has something to do with producing. What I was doing, strictly speaking, was producing – but I wasn't producing movies, but events (laughs). So I guess my last experience in this area has helped in shaping the other activities that I do now at Sincronia.
 And what are the other activities that you do there?
Well, besides producing, I'm in charge of a general coordination – almost like a sort of CEO. Because we're still a small company, so it's just me and Emanuel, plus the freelance professionals that come and go, and with whom sometimes we work more than once. While Emanuel is on the creative side – which is something he likes and does very well –, I'm in charge of idea executioning, be them his ideas or somebody else's who brings those ideas to the company. I also take care of the operational and administrative of a digital advertising agency we have inside Sincronia, and which was responsible for the Belugaria Custom Fashion campaigns in 2015 and 2016, with the movies done by the company. Sometimes I take responsibility for directing some jobs, like the interviews we did for the ABEME Hackathon, in 2016, an event that resulted in The Social Technology, btw.
Many responsibilities. How do you deal with this work routine?
Fortunately this area allows us to do our own schedule – which is something that didn't happen when I was employed. So I try to create a dynamic in order to take advantage of my day to the fullest, so I can resolve everything the best way. Besides, I like a lot what I do and I even get paid – so I never see the hours passing by.
The Social Technology will be the first full lenght film of the company – a lot of the success in getting the financing for the project is due to your trust and perseverance. How was the trajectory like so that you could get the funding and what has this represented for your work and for Sincronia Filmes as a whole? 
It was a conjunction of factors. The project was initially born because we were the responsibles to cover the ABEME Hackathon. This was an event that took place in São Paulo, in March 2016, to create digital solutions – in one word, apps – that would help and orientate youngsters and adolescents towards the dangers of diseases such as Aids and other STDs. We interviewed people – I was the director on those ones – and also made an institutional film that Emanuel directed called The Social Marathon. From this job an idea struck us: to make a documentary about this topic – which, I believe, is relevant and in a way or another never before seen in Brazilian Cinema. This in itself is such a tremendous conquer for me as a professional and for Sincronia, which has always been worried about escaping from the traditional, about trying to do things differently, the non-clichè. And I sincerely hope that this is our main difference and at the same time opens doors for other works to come. Because our main concern in the The Social Technology project is to be able to talk to youngsters, and doing that in a very modern, youthful way, which is something I believe that has seduced the private company in the US that financed the project – that was, btw, the first thing they told us when we did the meeting with them in their offices here in São Paulo. Without them we wouldn't have made it.
And what private company is that?
I can't say because we've signed a confidentiality agreement in which says we can't publicize the name.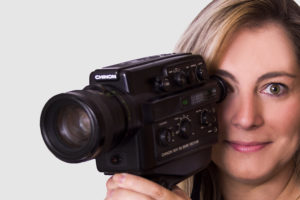 Did you try other forms of financing?
Many! But there were some problems: the country was at the peak of its political crisis – which stagnated several sectors, including and mainly the audiovisual area, a lot of that because of the scandals involving the Rouanet Law (A Federal Law in Brazil which helps the financing and production of Arts and Culture, via taxes exemption). This deeply frustrated us, me and Emanuel, because we got shocked at the disastrous way the law had been in use so far. We also tried the international funds, some of them invest in coproductions or are specific for documentaries – but bureaucracy was huge and many times we did not have the proper time to organize the project. We sent some e-mails to companies, made many phone calls, talked to people, other producers, and nothing. But we managed to have access to some contacts of key-companies, multinationals with offices in Brazil and, surprise!, we were well-received by the first one we got in contact with (laughs)! They gave us the proper directions on how to proceed, we had this meeting with them and afterwards we sent the project to the matrix company in the US. We had to wait four months until getting an answer that, in the end, was superpositive. 
The way this movie got financed was in a certain way different from the usual, I even risk to say it was a one-of-a-kind thing, at least in Brazilian terms of audiovisual production. Does it worry you the fact that it is a documentary – which is very specific and sometimes seen with contempt?
I don't think this should be a problem. Documentaries, when they're well-made, can reach a wide audience, as wide as a fiction film. If the story is good it will reach the people.
You've mentioned the problems faced by many producers in relation to the Rouanet Law and the way movies are financed in Brazil. What do you think should happen – for instance, something that would change this financing and producing modus operandi?
We don't have a Film industry in Brazil, this is a fact – the very same way there isn't any Film industry in any other part of the world but the US and India, which produces the double of the American industry. The biggest problem, I think, is that the means of access are too limited, we depend a lot on public money, which, most of the times, is badly managed, a source for corruption and a lot of wrong doing, too much linked to favours and obscure connections. There has to be more control, more supervision on what and how the money is being spended, verify if the money is really being invested in the project. It seems that, after all those scandals, there will be a movement towards this and I truly hope it happens.    
Besides being a producer you're also a photographer, more as a hobbie, I believe – and you like music, which are both expressions of sensibility. The impression one gets is that producers are, in the words of Federico Fellini, "absolutely insensitive beings, who don't understand the logic of screenplays, presume to know the public taste, and always want to change the end of a picture."
Hahaha. I don't know if Fellini was refering to all producers – probably to the ones with whom he worked. What I can say for myself is that I love capturing the little instants, the trips (I love traveling and getting to know new places!), and the details of everything I see and follow. Of course I'm tough, in order to work with this medium you have to be, otherwise you go nuts. But the important thing is that I know how to balance whenever possible and therefore do my work the best way I can. 
 Now that you have a new website and new perspectives ahead, what are the plans for Sincronia Filmes?
Hmm – I don't like to divulge or talk about upcoming projects. Of course we have many plans and projects, not only the ones connected to The Social Technology, which will also be independently distributed. What I can say is that we want to continue producing and doing our best, no matter what. My desire is to be a reference in the market – to know that we'll be acknowledged as an innovative company within its field, worried about doing the work in the most honest way, respecting people and driven not by a particular medium, but by a noble mission, which is to produce high quality content.
Marcela Liz is a Journalist and Entrepreneur.