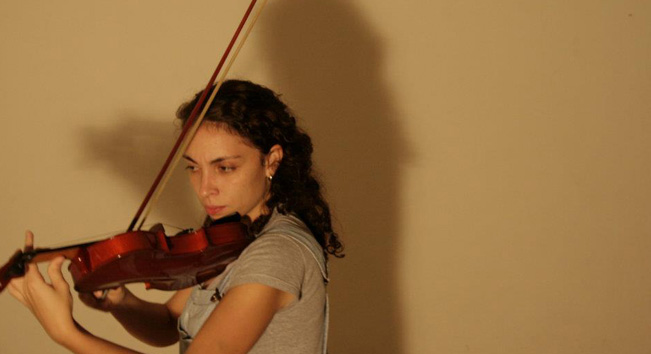 If energy and sensitivity had a name it certainly would be Mirrah Iañez. Even though those two qualities seem not to have anything in common it was like this, showing off these two capabilities in a very sharp way, that Mirrah Iañez has started a fecund career as a filmmaker – producing, writing and directing and even creating her own HQ, Ovo Frito Filmes, which without a doubt makes it clear her sense of humour and irreverence. Born in São Paulo from a Spanish family the young director gratuated in Film from Anhembi Morumbi University, and is able to show either the vigour of youth talent and the necessary tenderness in dealing with mature themes, usually very controversial and working on wounds that take too much time to heal.
Such was the case with Belo Monte – an experimental and political film about one of the most controversial subjects in contemporary Brazil – a short film done as an exercise for the Film course and which uses only one background image, the one of an indian woman, the people mostly affected by the construction of the power plant in the state of Pará, and superposing on it sections of texts, debates and all the polemical issues involved in the case.
Or even when she proposes to tell a story in one minute only, like in A Journal Metamorphosis, inspired, by the way, in the Argentine short story author Julio Cortazar. And it was really a blast for us to help her make her beautiful documentary film Living Statues, about the work done by artists – the so-called statue artists – who have been stigmatized many times by society. Through her very particular vision, Mirrah could show us, again in the exercise of sensitivity, that sometimes we need to see things not with the eyes, but with our hearts.