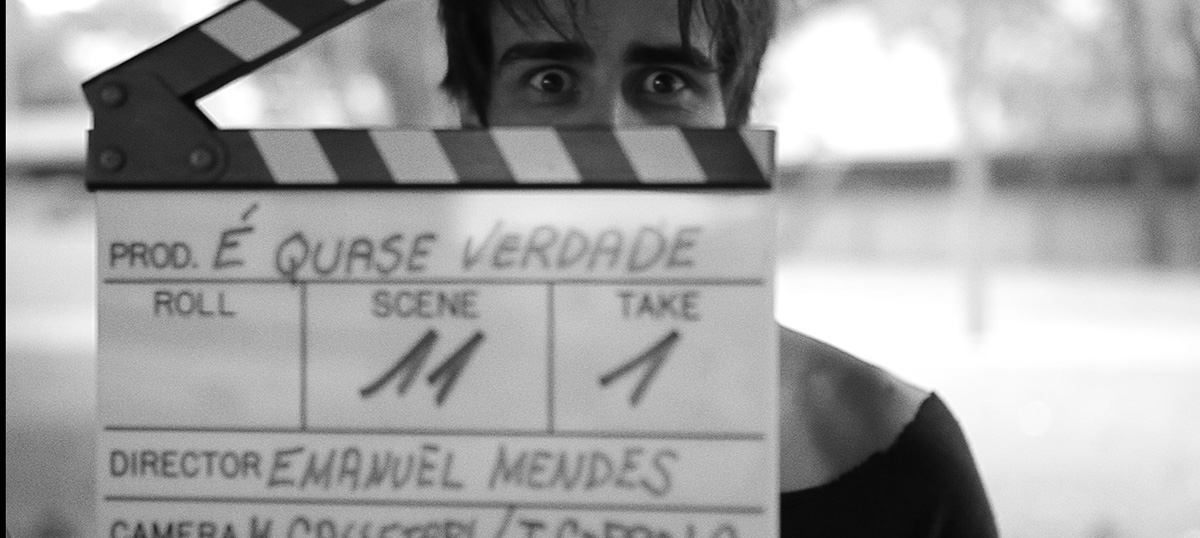 After many years of trouble – mainly because of copyright concerning its soundtrack –, it is with great pleasure that Sincronia Filmes presents and makes it available for the first time the original making of featurette of one of the production company's first films ever, the medium-length It's Almost True (2014), directed by Emanuel Mendes, owner and founder of Sincronia. The project is part of a series of works and reworks that the company team have proposed themselves to do in the beginning of 2021, meaning remastering and restoring Sincronia's old material, which needed care and attention, in celebration of its first 10-year anniversary of activities in the business, completed in August this year (see previous post).
A mixture of comedy and (fake) documentary, and originally shot in July 2011, It's Almost True tells the trajectory of the beggar Aparício (played by actor and cartoonist Pedro Ivo), interviewed by a film crew in the streets of São Paulo, Brazil. He and his friends, who equally live among viaducts and avenues of the city, wish to know why Brazilian Cinema has never made a movie with people of his class, "only with favelas (the slums of Rio de Janeiro), violence and the Northeast (called Sertão)", in his own very words. Written by Mendes and his co-writer André Campos Mesquita (who also wrote Mendes's own Amarar), It's Almost True distilled an acid sense of humor over the clichés and the modus operandi of Brazilian Cinema, "and did not please the artistic class when it was first released, maybe because the slap and the critic were much hurtful", says producer Janaina Zambotti, who took care of the entire process since the beginning. "From some festivals to which Emanuel sent a copy of the film for selection, he had to hear from one of them that "he was against Brazilian Cinema" (sic). Now that the film is entirely restored and remastered by Sincronia, and the copyright about its soundtrack is all clear, we thought equally appropriate to distribute and divulge the behind the scenes of a film done guerrilla style and in a totally independent way", finishes Janaina.         
It's All Fake covers the highlights of how the shooting of Emanuel Mendes's film went – which took four days to shoot: from the Masp Museum, on Paulista Avenue, in São Paulo, to images captured downtown, at the Parque Dom Pedro II, and at the Guarulhos International Airport. 
Watch the result below: