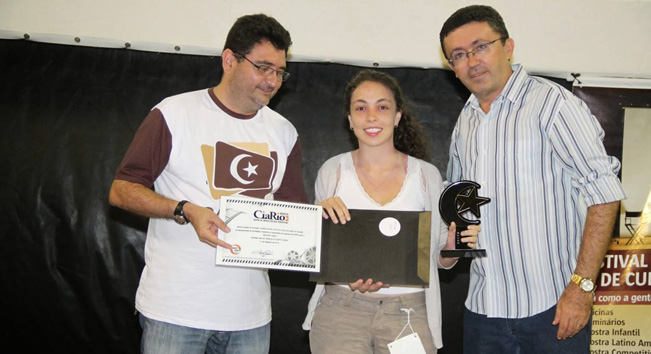 Another proof of how much we believe in Mirrah Iañez and her talented team. Living Statues, a coproduction between Sincronia and OFFilmes, the cinema collective mainly formed by Anhembi Morumbi University students, has won the best film category at Curta Canoa Film Festival, in the state of Ceará. This is the first time the film is screened in Northeast Brazil. "It certainly has been the very particular vision of the director towards this super stigmatized matter by society – the statue profession, actually done by artists (who most of the times are actors), and which has always been seen as an alternative for the lack of work and/or professional qualification", says A. Nakamura, producer at Sincronia. "Her film makes us see this idea through another angle, through another realistic point of view, because it also gives those people a voice of their own."
The festival is already very traditional in the region and is sponsored by Petrobras. A feature film is also screened, usually invited by the organizers. "Mirrah has gone to the festival because the curators took her there", says Nakamura. It's another place for them to meet, interact, get to know each other, and screen their films for a wider audience – without being stuck in the São Paulo-Rio de Janeiro circuit. "There has been a great number of film festivals popping up around Brazil in the last few years, mainly in areas where they wouldn't be", evaluates Nakamura. "The directors can only gain from this initiative."
Taking place in the city of Arati, the festival also offers audiovisual education, through workshops and a continuous professional enablement in Arati's cinema circles. "What is cool about all this is that sometimes this kind of event attract not only the target audience, but also tourists, local workers, producers and exhibitors. It's really a pity if this kind of business does not grow and expand. A lot has been done but a lot still needs to be implemented", sighs Nakamura.
Beyond Arati, Mirrah Iañez's film has also been to other states in Brazil, has participated in international festivals, like FENACO, in Peru ("The film has been giving us a lot of joy, indeed", says the director herself), and it has recently won the best short film directed by a woman award in the Somos Todos Otros Film Festival, in Mexico. "It's a social diversity festival, it has erything to do with our proposal, the engaging and lively energy of Mirrah's", says Nakamura. "We're very proud to have been a part of that."
Living Statues might continue its career throughout 2014.